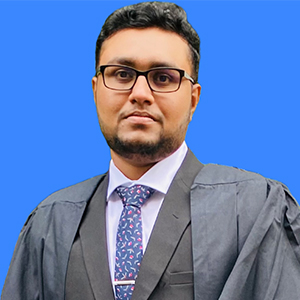 Mr. P. Gowtham
---
Lecturer (Probationary)
Department of Computer Engineering
---
B.Sc.Eng (Hons)(Jaffna),Member of the IEEE
---
Research interests : Medical Image processing, Computer Vision, Deep learning
---
  gowtham@eng.jfn.ac.lk   +94-21-206-0161
Mr.P.Gowtham graduated from the University of Jaffna with a Bachelor of the Science of Engineering degree in the field of specialization of Computer Engineering obtaining a first class. After working as an instructor and as an Assistant Lecturer at the Department of Computer Engineering from February 2021 to March 2022 he joined as a Lecturer (probationary) in April 2022. He is also an IEEE member.
2021: Professor A. Kumar David Gold Medal to the field top of the Department of Computer Engineering for the best overall performance in Computer Engineering - University of Jaffna.
2020: Professor Mahalingam Award for best Research project proposal at Faculty of Engineering, University of Jaffna.
2019: Huawei seeds for the future award for selected among the top 10 Computer Science, Computer Engineering undergraduates of the country based on academic merit.
International Conference and Workshop Papers
1 result
2021
[1]

Automated gastrointestinal abnormalities detection from endoscopic images

( ), In

2021 IEEE 16th International Conference on Industrial and Information Systems (ICIIS)

,

2021

.