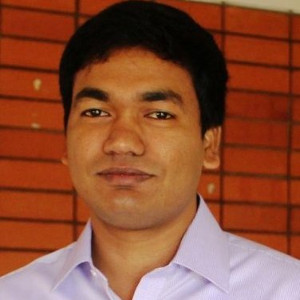 Dr. Anantharajah Kaneswaran
---
Senior Lecturer Grade II
Head, Department of Computer Engineering
---
BSc. Eng (Hons) (Peradeniya), PhD (QUT, Australia), AMIE(SL)
Member of the IEEE
---
Research interests : Automatic Face Verification Face Clustering Object Classification
.
---
kanesh@eng.jfn.ac.lk
+94-21-206-0160
Dr. A. Kaneswaran had received B.Sc Eng Degree with first class honours from University of Peradeniya in 2008 and PhD from Queensland University of Technology (QUT) in 2015. From July 2008 till July 2011, he worked as an Engineer at Sri Lanka Telecom (PLC). He handled new service provisioning process and fault handling process configuration in Operations Support System (Clarity). He worked as a core team member for new CRM system implementation team at SLT. He involved in CRM system implementation, integrations of CRM system with OSS and CRM system with BSS. His PhD research was on "Robust Face Clustering for Real-World Data". His thesis has investigated how to cluster a large number of faces within a multi-media corpus in the presence of large session variation. Findings from his research contribute to improving the performance of both face verification systems and the fully automated clustering of faces from a large video corpus. He obtained most popular thesis (technical research) award from Smart Services Cooperative Research Centre (Smart Services CRC), Smart Services CRC Postgraduate Scholarship, QUT fee Waiver Scholarship (FEEWAIVE) and QUT Write-up Scholarship while pursuing his PhD degree. He obtained Mahapola Higher Education (Merit) Scholarship for the performance in Advanced Level Examination. He is a Member of the IEEE and Associate Member of the Institution of Engineers Sri Lanka (IESL).
Automatic Face Verification Face Clustering Object Classification
International Conference and Workshop Papers
6 results
2018
[6]

Solar Irradiance Forecasting Using Deep Learning Approaches

( ), In

National Undergraduate Research Symposium(Submitted)

,

2018

.
[5]

Long-term Solar Irradiance Forecasting Approaches – A Comparative Study

( ), In

International Conference on Information and Automation for Sustainability(Accepted)

,

2018

.
2015
[4]

Robust Automatic Face Clustering in News Video" Digital Image Computing

( ), In

Techniques and Applications (DICTA),Australia

,

2015

.
2014
[3]

Local inter-session variability modelling for object classification

( ), In

IEEE Winter Conference on Applications of Computer Vision

,

2014

.
2013
[2]

Quality based frame selection for face clustering in news video" Digital Image Computing

( ), In

Digital Image Computing: Techniques and Applications (DICTA), Hobart, Tasmania, Australia

,

2013

.
2012
[1]

Quality Based Frame Selection for Video Face Recognition

( ), In

6th International Conference on Signal Processing and Communication Systems, Gold Coast, Australia

,

2012

.