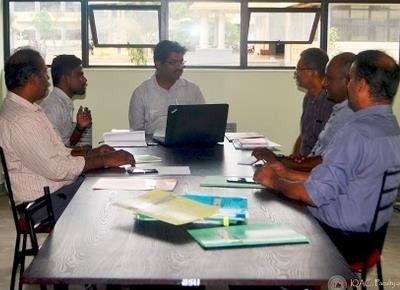 Internal Quality Assurance Cell (IQAC) of the Faculty of Engineering is responsible for providing confidence that the requirements for quality are met. Interested groups, such as the government, industry and society in general, want confidence that the students will have the required knowledge when they graduate, that cutting-edge courses and programs are offered. To provide such confidence to the employers of graduates and the general public, University Grants Commission in Sri Lanka have introduced national accreditation of university programs. The standards were developed by quality professionals originating mainly from the academic and industry sectors, and provide a framework for developing quality systems, as well as making quality efforts visible to customers. The IQAC team visited to all the Departments during a week starting on 21st December 2017, to check through their operations and documentations to preserve the best quality of teaching and learning process. More information can be viewed from https://sites.google.com/view/iqac-faculty-of-engineering/home
Functions and Responsibilities:
IQAC shall design action plans and implementation mechanisms to ensure that the Quality principles (Best Practices) are actually practiced by the Faculty. The "best practices" are dynamic and continuous. They are the result of identification, experimentation, reflection, feedback and innovation based on experience. Best practices are amenable to documentation and have the potential for replication; they are transparent, accountable, affordable and accessible to both staff and students, and add value to an institution. They are contextual and influenced by many factors. Best Practices show the path to success through continuous improvement leading to the benchmark of excellence.
Criteria and Corresponding Best Practices at the Faculty level:
IQACs in liaison with respective committees in the faculties will ensure that the ten criteria proposed by Program Review Manual namely:
Governance and Management
Curriculum Design and Development
Teaching and Learning
Learning Resources Student Support and Progression
Student Assessment and Awards
Strength and Quality of Staff
Postgraduate studies, research, Innovation and Commercialization
Community Engagement, Consultancy and Outreach
Distance Education
Quality Assurance, and the corresponding best practices are being adopted within the Faculty