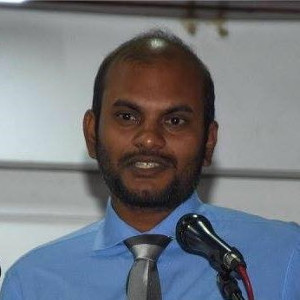 Dr. Daniel N Subramaniam
---
Senior Lecturer Grade II
Department of Civil Engineering
---
BSc. Eng (Hons) (Moratuwa), MSc. (Southampton, UK), PhD (QUT, Australia)
---
Research interests : Water Resources related topics focussing both on quantitative and qualitative management.
---
daniel.subramaniam@gmail.com
+94-21-206-0160

Dr. D N Subramaniam obtained his BSc. Eng (Hons) from University of Moratuwa in 2008 and continued to read for his MSc. at University of Southampton, United Kingdom and graduated in 2009. Later, he obtained his Doctor of Philosophy from Queensland University of Technology, Australia in 2015, with a research focus on stormwater management system: stormwater biofilters. Currently, he is attached to Department of Civil and Environmental Engineering, University of Jaffna.

His main stream of interest is on the field of water resources and environmental sustainability in civil engineering. He has undertaken a research study on the performance of stormwater biofilters under intermittent wetting and drying conditions. Earlier in his career, he has done research on wastewater treatment in a UASB reactor for his MSc. and another research on seasonal changes in coastal erosion along the south-eastern coast of Sri Lanka for his BSc. Eng.

He was awarded QUT Postgraduate Research Award (QUTPRA), Faculty of Built Environment and Engineering Top-Up Scholarship, QUT Higher Degree Tuition Award, towards his PhD career at QUT.

Overall: Water Resources related topics focusing both on quantitative and qualitative management.
In Detail: Primary focus relies on quantitative and qualitative management systems of water resources, and both their hydraulic and pollutant removal performances. This includes water and wastewater treatment systems, ranging from conventional physical and biological removal systems to modern and advanced systems. In addition, his research interest also extends into stormwater and groundwater management systems, including analysing and enhancing the hydraulic and pollutant removal performance of the same.
His secondary focus relies on concrete technology incorporating sustainability, that includes usage of waste material (construction and demolition waste, glass, rubber, fly- and bottom-ash, rice-husk ash, coir and natural fibre) in designing porous concrete. Application of resulting porous concrete is considered widely including as porous pavements, light-traffic roads, parking lots and for construction.

[insert_php]$_GET['bib']='DrSubramaniam.bib'; $_GET['all']=1; include( 'bibtexbrowser.php' ); [/insert_php]