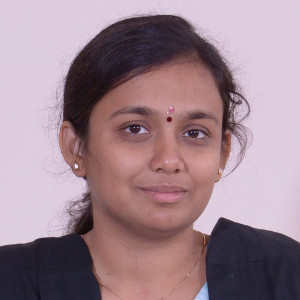 Ms. Mathuranthagaa Selvarathnam
---
Lecturer (Probationary)
Department of Computer Engineering
---
B.Sc.Eng.(Hons)(Moratuwa), AMIE(SL)
---
Research interests : Embedded Systems Design, Computer architecture, Software Defined Networking, Internet of Things, Computer security, Machine Learning, Software Engineering.
---
maselv@eng.jfn.ac.lk
+94 21 206 0161
Mathuranthagaa Selvarathnam received her BSc Eng (Hons) degree with first class honours from Department of Electronics and Telecommunications Engineering, University of Moratuwa in 2011.
She did her six months industrial training at Millennium IT (pvt) Ltd in the year of 2010. Her career started as a Software Development Engineer in Test with Creative Search Technologies (Pvt) Ltd. Main area of work was on Enterprise Search and Custom Security Trimming for Search in SharePoint 2013. Later she joined Microsoft Development Center Norway in March 2013 and worked as Software Development Engineer in Test and then as a Software Engineer till September 2017. There, she contributed for prototyping and delivering today's Delve, one of the services in O365, which helps to discover and organize the information that's likely to be most interesting to you across Office 365. She worked on integration of Office 365 user profile as part of Delve, adding documents to boards or favorites, Moving Delve web app to React.js and Typescript stack. She worked in publishing part of SharePoint as well. She did On Call Engineer duty for SharePoint and Exchange search as part of her work.
She has passed Diploma in IT and Professional Graduate Diploma in IT examinations offered by British Computer Society (BCS). She has completed CCNA routing and switching instructor training program in January 2019.
She has obtained US patent 10169457 with twelve other inventors titled "Displaying and posting aggregated social activity on a piece of enterprise content" in 2019.
She has received Certificate in Teaching for Higher Education (CTHE – University of Colombo) with SEDA(UK) accreditation in October 2020.
She is a Member of the IEEE and Associate Member of the Institution of Engineers Sri Lanka (AMIE(SL)) and Engineering Council, Sri Lanka (ECSL).
Have obtained the MAHAPOLA higher education scholarship trust fund
Included in the Dean's list in level 1 semester 1, level 4 semester 1 and level 4 semester 2 during undergraduate studies
Microsoft "ship it" award for shipping SharePoint 2015
Embedded Systems Design
Computer architecture
Software Defined Networking
Internet of Things
Computer security
Machine Learning
Software Engineering
Patents and Copyrights
1 result
2019
[1]

Miller et al, number 10169457(NO A1), Displaying and posting aggregated social activity on a piece of enterprise content

( ),

2019

.
International Conference and Workshop Papers
2 results
2021
[2]

""Can Mumbai Indians Chase the Target?": Predict win probability in IPL T20-20 Cricket"

( ), In

presented in ICICT 2021, held at Brunel University, London,(in press)on February

,

2021

.
2013
[1]

Automated Diagnosis of Cardiac Abnormalities using Heart Sounds

( ), In

IEEE EMBS Special Topic Conference on Point-of-Care Healthcare Technologies

,

2013

.
National Conference and Workshop Papers
1 result
2011
[1]

Disease Detection System from Heart Sounds

( ), In

17th ERU Symposium, Faculty of Engineering, University of Moratuwa, Sri Lanka

,

2011

.