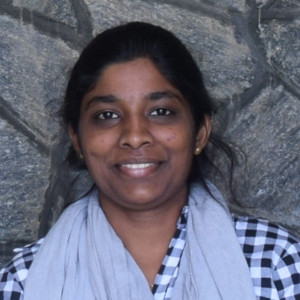 Ms. Rohini Ramachandran
---
Lecturer (Probationary)
"also pursuing PhD research at Texas Tech University, Lubbock, USA"
Department of Interdisciplinary Studies
---
B.Sc.Eng.(Hons)(Peradeniya), AMIE(SL)
---
Research interests : Fluid dynamics, Aerodynamics, Reduction of drag and increase of propulsive efficiency.
---
roh.rama@eng.jfn.ac.lk +94 21 206 0161
Ms. R. Ramachandran graduated from University of Peradeniya in 2014 with Bachelor of Engineering (Hons) degree in the field of specialization of Mechanical Engineering obtaining second upper class. Presently she is working as a Lecturer (Probationary) attached to the Department of Interdisciplinary Studies.
She is a life Member of Jaffna Science Association.
ID 1010 (Engineering Drawing)
ID 2010(Thermodynamics)
MP 3010 (Kinematics and Dynamics)
MP 4010(Applied Thermodynamics)
MP 4030(Mechanics of Machines)
MP 5030 (Fluid machinery)
MP 9010 (Advanced fluid mechanics)
Thermofluids
Experimental and theoretical research in the field of heat transfer
Computational Fluid Dynamics
Ongoing student research project: "Assessment of performance and development of biomass fired cabinet dryers for improved energy efficiency"