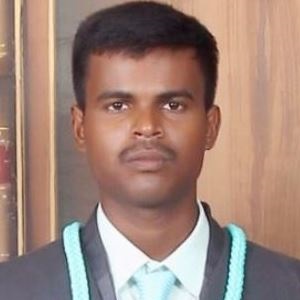 Mr. Santhanam Sangar
---
Lecturer (Probationary)
On study leave for PhD research at Wichita State University, USA
Department of Electrical and Electronic Engineering
---
B.Sc.Eng(Hons)(Jaffna), AMIE(SL)
---
Research interests (General) : Renewable Energy Technologies (Especially Electricity Generation from the Sea Wave), Applications of Power Electronics, Smart Grid and Distribution Automation Technologies, Internet of Things and 5G technologies
---
sangar@eng.jfn.ac.lk +94 21 206 0160
Eng. S. Sangar obtained his B.Sc.Eng. Honors degree in the field of Electrical and Electronic Engineering from the University of Jaffna in the year 2017 with second class (upper division). He was awarded Professor Eliathamby Ambikairajah award for best performance in fifth semester Electrical and Electronic Engineering in 2015. After graduation, he worked as a temporary instructor at the Electric machines laboratory at the University of Jaffna from October 2017 till Judy 2019. Then he joined Dialog Axiata (PLC) as a regional network planning Engineer in 2018. Then he joined the Department of Electrical and Electronic Engineering, the University of Jaffna as a lecturer (probationary) in 2019. He is also an Associate Member of the Institution of Engineers Sri Lanka (AM-22460), Associate Engineer Engineering Council Sri Lanka (209101), and Member of the Institute of Electrical and Electronic Engineers (96520410).
Research interests (General):
Renewable Energy Technologies (Especially Electricity Generation from the Sea Wave)
Applications of Power Electronics
Smart Grid and Distribution Automation Technologies
Internet of Things and 5G technologies
Ongoing Research Projects:
Developing Electric motorbike development using DC brushless motor.
Development of air displacement technique sea wave power generator.
International Conference and Workshop Papers
1 result
2015
[1]

Conversion of used oil into lubricating grease, volume 19, abs.no-214

( ), In

International Conference in Peradeniya

,

2015

.
National Conference and Workshop Papers
2 results
2020
[2]

Design of an Onshore Wave Energy Converter device for Electricity Generation

( ), In

114th Annual sessions of the IESL, Head Office, Colombo IESL. (Abstract accepted- Final paper in review)

,

2020

.
[1]

DC Machine Based Wind Turbines for Extracting Electrical Energy from Renewable Energy Resources

( ), In

27th Jaffna Science Association Annual Scientific Session

, volume ,

2020

.
Other Publications
1 result
[1]

Conversion of used heavy fuel oil and lubricating oil mixture into lubricating grease

( ).
Regional Engineer, Access Planning North, Radio Network Planning and Development at Dialog Axiata PLC from July 2018 to September 2019.
Visiting Lecturer, University College of Jaffna from February 2018 to July 2018.
Instructor, Department of Electrical and Electronic Engineering, Faculty of the Engineering University of Jaffna from October 2017 to July 2018.
As a Trainee/Research Engineer at Senzmate (Pvt) Ltd in an agrosenz development project from April 2017 to June 2017.
Professor Eliathamby Ambikairajah award for the Best Overall Performance in Electrical and Electronic Engineering 2016 in the 5th Semester Examination.
Certificate of Merit awarded in Undergraduate Inventor of the Year 2015 conducted by Institute of Engineers in Sri Lanka (IESL).