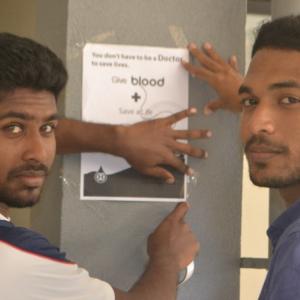 The Engineering Week also help the community in many different ways. There were always a medical camp organized with the help of medical doctors. The Kilinochchi hospital is always helping on this regards.
It is also good to remember the help received from the Kilinochchi hospital doctors at the very initial stage of the University premises development at the Kilinochchi. It was tremendous help received for operating the first canteen of the Faculty of Engineering from January 2014, many medical doctors visited and mentored the students, medical doctors were supported by keeping regular visiting hours in every week in the afternoon for looking after the students health issues etc.. The faculty thank all the helps received from Kilinochchi hospital doctors in the past.
During the Engineering week program held in 2017, the doctors help to organize blood donation, eye checking for school children and others, etc.. in the Faculty of Engineering. Many faculty students donated the blood while the school children got the benefits of checking their eye as it is a common problem coming up among the school children.