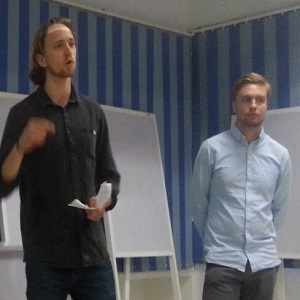 Four Norwegian students, specialized in electrical engineering degree program, have designed and installed solar project with battery storage in Sri Lanka as green energy program for a week ending on 28th May 2017. This program was chosen as their bachelor's degree project work. This was done at the Rose Villa Heritage Homes project headed by Mr. Yogavarathan Mahalingasivam. Those students also visited to the University of Moratuwa and University of Jaffna during their visit to Sri Lanka.
A presentation was done on 28th May 2017 at the University of Jaffna to share their experience with the students from University of Jaffna including the Faculty of Engineering. It was good event on sharing the project experience. The event also participated by the Vice Chancellor Professor R. Vigneswaran, Mr. Yogavarathan Mahalingasivam, Professor P. Ravirajan, Professor S. Meena and Professor A. Atputharajah together with about 30 students.
Brief on Rose Villa:
The Rose Villa Heritage homes is a retirement home scheme in Jaffna as the first model house established by Eng. Yogavarathan Mahalingasivam. This is plan to be a good opportunity for senior citizens to promote healthier, cleaner and peaceful living in tranquil surroundings. This include number of engineering applications to make it as greener environment. Further it has the public garden and communal areas where yoga lessons and gardening practices will be carried out for residents to promote overall wellness of mind and body.