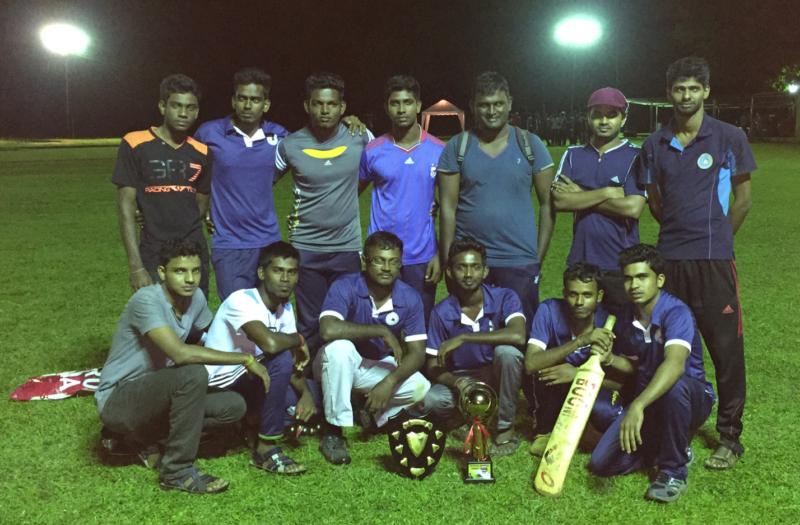 Students of the Faculty of Engineering went to Peradeniya to take part in a memorial tournament, named after late Mr. Calistus, emerged victorious. The match was held on 12th September 2015 as a night match. The venue was the main ground of the University of Peradeniya. Students from Faculty of Engineering, University of Jaffna, who went there to take part in couple of exhibition matches, outplayed the hosts and proved their strength. Being a newly blossoming faculty, those friendly matches with the senior faculties would help to enhance a tight bond between the engineering faculties of Sri Lanka.
The players who participated in the match were: (i) Mr. K. Sajeevan (captain), (ii) Mr. B. Nilakshan, (iii) Mr. J. Luxsan, (iv) Mr. K. Thanushan, (v) Mr. S. Mayooran, (vi) Mr. S. Kanesh, (vii) Mr. N. Vivek, (viii) Mr. S. Paraneetharan, (ix) Mr. R. Niroshan, (x) Mr. S. Sujiththiran, (xi) Mr. M. Mathivathanan, (xii) Mr. Gracian and (xiii) Mr. S. Linojan.
Sports facility at Kilinochchi premises is still at a very primitive level. The faculty started with very natural ground, where it can just be use for playing cricket. More development of the sports facility is expected during the year 2016. However, the students from the Faculty of Engineering of the University of Jaffna have shown their talent at the night cricket competition, by winning the match. Total merit on winning this match goes purely to the students, which represent their hard work, motivation and the team work.