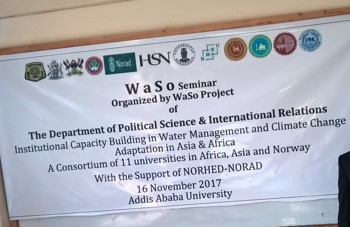 Dr. S.S. Sivakumar, coordinator of WaSo project of UoJ and Mr. D.S. Sampath, Secretary of WaSo project attended WaSo scientific seminar at Addis Ababa University, Ethiopia on 16th November 2017. Workshop hosted by Department of Political Science and International Relations, Addis Ababa University of Ethiopia.
Dr. Sivakumar delivered paper presentation on "Freshwater Harvesting in Northern Sri Lankan Lagoons by Continuous Flushing of Mainland Rivers." Engineering science and Technology session. Prof. S. B. Weerakoon chaired the session.
Mr. Sampath delivered paper presentation on "Ancient hydraulic civilization at Deduru Oya river basin, Sri Lanka" at Social and Political Science Session. Prof. Kasuvan chaired the session.