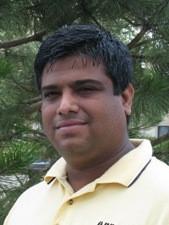 Assistant Professor Visvakumar Aravinthan from Wichita State University, delivered a seminar to the students on 5th January 2015. It was a very good opportunity to the students to interact with the experts from foreign Universities and get their knowledge shared with them. Different method of teaching, updated knowledge with ongoing research work will help the students to take up challenging projects for their undergraduate education.
Further Aravinthan also stayed in the faculty on 5th and 6th January to discuss with the staff of the Department of Electrical and Electronic Engineering. Further he went through the syllabus and gave his feedback on the syllabus. Finally Aravinthan agreed to be an external supervisor for few undergraduate projects, falling in line with his expert area, from the Faculty of Engineering of the University of Jaffna.
Aravinthan completed his BScEng degree from the University of Moratuwa, Sri Lanka in 2002. Then he went to Wichita State University to do MScEng in 2006 and PhD in 2010 respectively. His research interests are: Smart Distribution Systems, Integration of Distributed Sources, Impact of Electric Vehicles to the Grids and Distribution Systems Reliability.