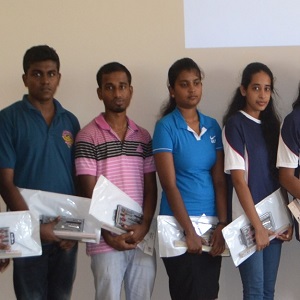 The Tamil Engineers Foundation, which is also called as Engineering Charity Fund – Australia, always helping the Faculty of Engineering of the University of Jaffna. The faculty increase the intake from 50 to 75 students. As a result the increased 25 students need to be empowered with additional drawing boxes. Therefore based on the request from the president of the Engineering Students Union to the President of the Tamil Engineering Foundation Eng. Thev Theiventhiram, this donation was initiated.
The faculty officers team including: Dr. B. Ketheesan – Senior Treasured of the Engineering Student Union, Ms. H. Krishnarajah – who was helping on purchasing drawing boxes, Ms. Janaki Aravintharaj – Assistant Registrar and helping to organize the quotations and the Dean Professor A. Atputharajah helped to implement this donation from the Tamil Engineers Foundation. Here the Tamil Engineers Foundation donated 121,752 rupees for purchasing 25 drawing boxes. These boxes were purchased and handed over to the students during April – May 2017. As a result all 75 students in the first year got the drawing boxes.
During the handing over event, Dean, Senior Treasurer and ESU president sincerely thanked the donor, Tamil Engineering Foundation, for this help and continuous motivation to the Engineering students of the University of Jaffna. This donations are always helping the students to have equal facility while providing excellent conductive learning facilities. The faculty express their sincere gratitude to the Tamil Engineers Foundation for their continuous motivation to the Engineering students entering to the University of Jaffna.