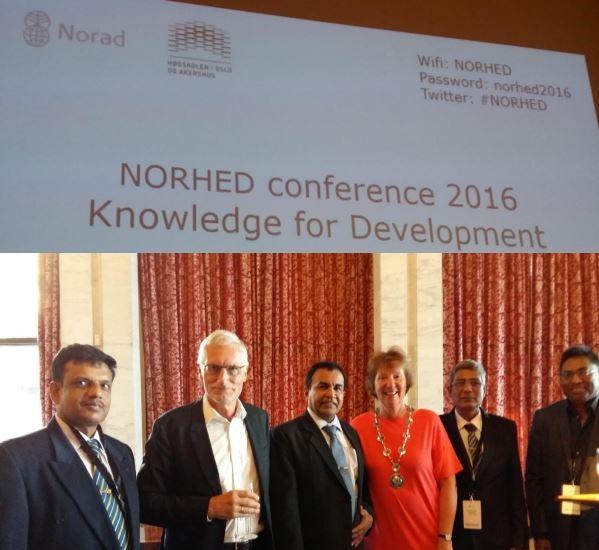 The Head of the Department of Civil Engineering and Coordinator of the WaSo Asia Project Dr S.S. Sivakumar, from the Faculty of Engineering, Prof Meena Sentilnantanen from the Faculty of Science and Dr Anantini Nanthakumar from the Vavuniya Campus participated in this conference. This conference was organized by Norad from 6th to 9th June in Oslo, Norway.
In this conference, keynote addresses were delivered on the titles of
The politics and geography of knowledge,
Investing in higher education and research for superior return and
Universities and the SDG agenda.
Three eminent senior academics from various part of the glob delivered their speeches to more than 400 audiences gathered in the auditorium of University of Oslo Norway. Further panel discussions were carried out with the topics of
University partnerships for development,
Gender and diversity in higher education and research and
Higher education and fragile situations.
The second day was allocated to the following plenary sessions with following topics and the eminent academics as moderators. The sessions were on
Higher education and development: Literature review by Susy Ndaruhutse, Head of international development, Education Development Trust,
Searching for results: Aggregation of results for the NORHED program by Tewodros Kebede, Senior researcher, FAFO,
Results management in capacity development for higher education and research by Azra Nurkic, Institute for Development Impact and
NORHED design compared to other capacity building initiatives for higher education and research by Damtew Teferra, University of Kwazulu-Natal.