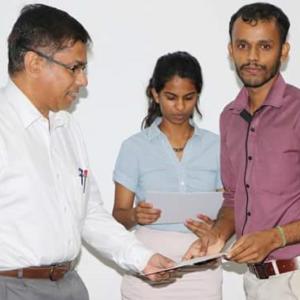 The Emerging Civil Engineer Award is an annual competition organised by the Sri Lanka Association of the Institution of Civil Engineers to encourage and support future civil engineers of Sri Lanka. The award aims to identify and reward the most innovative civil engineering student in Sri Lanka and to encourage innovative thinking among all civil engineering students. This event was held in 3rd April 2017.
The competition consists of three phases; The Idea, The Essay and The Presentation.
In the Concept phase the candidates will submit a short description of a Civil Engineering issue that they have witnessed in Sri Lanka and a short description of a solution/idea to mitigate that issue. The idea phase is a qualification stage designed to make sure that the candidates are in the right track from the beginning of the competition hence the candidates with feasible ideas will be selected by the panel of judges to move forward to the next Phase – The Essay. Candidates are allowed to make up to 3 different submissions in the Idea Phase. The Selected candidates will be notified by email
In the Detailed proposal phase the candidate will provide a more detailed description of the Civil Engineering issue and a more detailed description of the solution proposed in the idea phase. The candidates also need to justify their claims and prove that their solution is the best option. The candidates with best essay will be shortlisted by the panel of judges to move forward to the next Phase – The Presentation
In the Presentation phase the candidates need to present their ideas to a panel of judges. The candidates with the best solution for civil engineering issues in Sri Lanka will be selected as winners
The person awarded with above all three stages of competitions. Finally, best civil engineering idea, which can solve the civil engineering issue in Sri Lanka was awarded. The final year students Mr. S. Mayooran and Mr. U. Nitharsan received this award at the final stage competition of this award. These students are from the first batch and final year Civil Engineering Students. Award winning idea was "Replace the Rice Husk Ash (RHA) partially instead of cement in Cement block production". From this idea environmental, Economical and Health will be benefited considerably. Cost equivalent to millions rupees can be saved in a year as well. The same award was also given to few other students from University of Moratuwa, Northshore College and SLIIT. The faculty of Engineering congratulate the Mayooran and Nitharsan, who obtained this award.