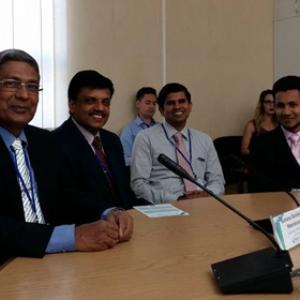 Dr. S.S. Sivakumar, Coordinator of WaterH project of UoJ and Mr. Saliya Sampath, Lecturer, Faculty of Engineering, UoJ attended WaterH Erasmus+ 7th annual project meetings at Cherkassy, Ukriane from 9th – 11th July 2017.
Meeting was held at Ukraine hotel at Cherkassy, Ukraine. Objective of this meeting was
• Review of status and planning of teaching materials development and introduction of e-learning platform
• Training of teachers to use best lecturing practices at open seminars
• Conclusions and group discussion of findings on collaboration with enterprises and initiation of contractual research
• Discussion on feedback from mobility and summer school participants
• Revision of administrative issues and reporting to EACEA
• Tracking and evaluation of equipment procurements
The WaterH Erasmus+ project intends to harmonies teaching and pedagogical approaches in water related graduate education in 10 partner universities from China, Germany, Norway, Poland, Sri Lanka, Ukraine.
The project aim will be met through curriculum development and improved learning and teaching tools, methodologies and pedagogical approaches using best practices. The WaterH Erasmus+ project is funded by EU Erasmus+ Program for capacity building in higher education.