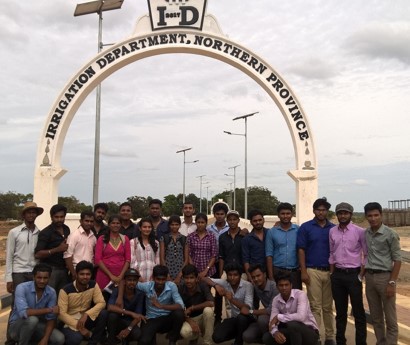 Second year civil engineering students of university of Jaffna visited irrigation systems in Northern Province under "CE 4030 – Engineering Hydrology" subject on 16th September 2017. They have visited Wishwamadu, Kalmadu and Iranamadu irrigation schemes and their canal network. Sampath organized the field visit and guided them during filed visit.
They have studied about reservoirs and related structures, Dam types, spillway types, canal structures, cross drainage structures and irrigation structures during the field visit.
Students have seen regulators, drop structures, canal spills, canal transitions (canal contraction and canal expansions), uniform cross section canal, variable cross section canals, LB and RB main canals, D- canals, F- Canals, B canals, trapezoidal and rectangular channel, diversion canal, concrete lining canal and earth canals, spill canals, bathing steps, retaining wall for canal bank protection (Cantilever, gabion and gravity walls), spill ways (Radial gates, natural and Ogee type spill), stilling basins, hydraulic jumps, sluice towers, cross drainage structures, course ways and many more.
They have seen command areas of each reservoirs (paddy fields) and catchment areas of the reservoirs. They have seen dam widening and raising activities at Iranamadu reservoir.
Other than this they have visited DryAru kulam and Kanagambikai kulam too.