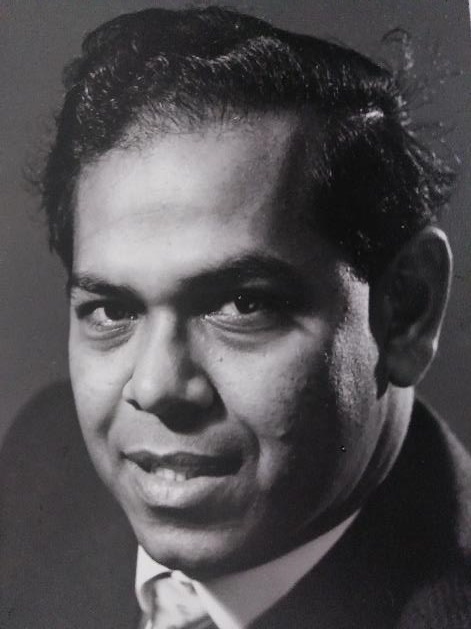 A memorial endowment was established with the name of Eng. Perampalam Vivegananthan in December 2017. This is to give a cash award at the Faculty Board of Engineering for the student/s performing the best results in Power System Subject. The student should get above A- grade and best in the batch to get this award. For this award, the winner will be awarded Sri Lankan Rupees of 30,000 cash award at the Faculty Board (equivalent to the interest of the capital, which was deposited by the donor). It was an excellent motivation to the students, who are very well motivated to achieve the best in their academic performance of this subject.
Brief Biography of Eng. Vivegananthan Perampalam
Perampalam Vivegananthan (Vive) (1939-1982) was a dedicated family man and a passionate electrical engineer. Vive grew up in Urelu, Jaffna with his ten siblings. As a boy Vive loved to explore how things are constructed and occasionally got into hijinks. Once he and his brother created a radio antenna on a mango tree that was promptly torn down by his father. Vive was a stellar student in elementary and high school and showed a talent for math and science. Engineering drew him from childhood and thus, was a natural choice for his university studies. Vive obtained a B.Sc. Engineering with Honors from the University of Ceylon in 1959. After graduation, Vive obtained a scholarship to study at the Master's level at the University of Manchester, Institue of Science and Technology. As a Chartered Electrical Engineer Vive worked at Associate Electrical Industries and British Nuclear Design and Construction in the UK. He married Kohilambal Sithamparampillai (also a graduate from the University of Ceylon) in 1966. Vive and Kohila emigrated from the UK to Canada in 1974 with their two young children, Jeevan and Usha. As a Professional Engineer in Canada Vive worked for Atomic Energy of Canada Limited. The most exciting and fulfilling period of Vive's career was as an electrical engineer at the Point Lepreau Nuclear Power Station in New Brunswick, Canada. Vive was intellectually driven and a skilled problem-solver. His favorite place was on the nuclear plant floor bringing technical solutions to complex problems together with his colleagues and employees. Point Lepreau operates to this day and is the only operating nuclear power reactor in Atlantic Canada. Vive passed his love of science and problem-solving onto both of his children.
Jeevan (B.A.Sc. Engineering Science, University of Toronto) and Usha (B.Sc., Ph.D. Molecular and Medical Genetics, University of Toronto) are proud to carry on his legacy of dedication to career and intellectual curiosity. Along with their mother, they are very happy to provide this endowment to the highest performing Power Systems student at the Faculty of Engineering, University of Jaffna and hope it will inspire students to follow Vive's example as an outstanding engineer.