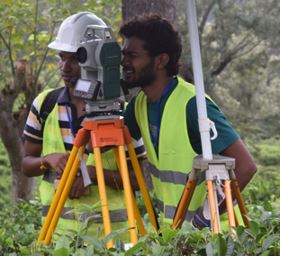 Surveying camp is part of the curriculum of "CE 4010: Surveying and Fieldwork" subject. Altogether 29 Civil Engineering Students attended the surveying camp and it was 8 days of residential program. This was held from 9th October to 17th October 2017 at Uva Management Development Institute, Passara Road, Badulla. Students carried out their measuring activities around URY tea estate and UMDI surrounding under 5 different projects.
Dr. S. S. Sivakumar, D. B. Ketheesan, Eng. Saliya Sampath and Ms. L. Thakshajini participated as full time internal lectures. Mr. K . Nirojan, Mr. A. Xaviar, Mr. Kumuthan, Mr. Mayuresan, Miss. Umaipriya participated as instructors from Department of Civil Engineering. Mr. K. Joseph Dharmar, Mr. R. Pratheepan and Mr. R. Divakaran attended as technical officer and lab attendants.
Camp fire was held on 16th October, Tuesday night at UMDI premises. Students visited Dunhinda Waterfall and Loggal Oya Labyrinth spillway on the way.
It was one of the very successful event conducted by Department of Civil Engineering and student got real surveying experience with different environmental condition. Mr. Sampath was the technical coordinator the third surveying camp of UoJ. Dr. B. Ketheesan was overall coordinator for the third surveying camp of UoJ.