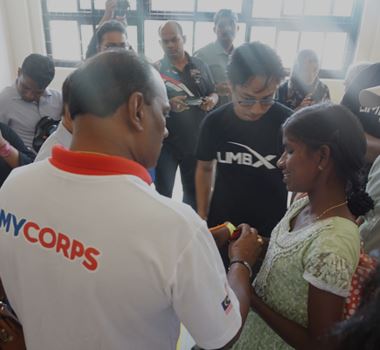 To conclude the training program conducted by MyCorps in collaboration with the Faculty of Engineering and to initiate the centre for prosthetic at the Faculty to continuously help the community by producing prosthetic for the needy people in the region, a centre for prosthetic was initiated at the Department of Interdisciplinary Studies, Faculty of Engineering, University of Jaffna.
A function was held at the Faculty of Engineering on 4th October 2017 to initiate the centre ceremonially. Deputy Minister of Youth and Sports, Malaysia. His honorable Datuk M. Saravanan and Prof. T. Mikunthan, Dean / Graduate Studies, representing Vice Chancellor graced the occasion together with Chair person, Jaffna Jaipur Centre for Disability Rehabilitation, Dr. (Mrs). J. Ganeshamoorthy, Deputy Director General, Minister of Youth and Sports, Assistant Director Ministry of Youth and Sports, Representative of Regional Director of Health Services, Kilinochchi, Deans of the faculties, Heads of the departments and distinguished guests. This program was initiated and coordinated by Dr. A. Anburuvel, Head of the Department of Interdisciplinary Studies of the Faculty of Engineering.
The training participants were issued a certified of participation at the ceremony. A 3D printer and cash worth of LKR 1.75 million were donated by MyCorps to the Faculty of Engineering to continue with this project.